Welcome to the
Quartz Hill School of Theology

Serving the Antelope Valley and the World Wide Web with information about the Bible.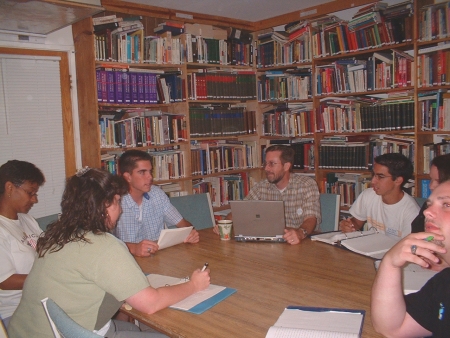 Quartz Hill School of Theology is an academic institution designed to train believers for more effective ministry, both in and out of the church. QHST affirms that each believer is a priest before God, indwelt by the Holy Spirit, not needing any human intermediary to reach God and competent to judge spiritual matters for him or herself.
Quartz Hill School of Theology is a ministry of Quartz Hill Community Church, which is associated with the Southern Baptist Convention.
Quartz Hill School of Theology admits students regardless of race, religion, gender, age, national origin or handicap.
In addition to offering classes in Bible, Theology and Biblical Langauges (Hebrew, Aramaic, and Greek) we also publish a journal: Quartz Hill Journal of Theology.
Please feel free to submit articles. All submissions should include a SASE and conform to the Baptist Faith and Message, adopted by the Southern Baptist Convention in 1963.
Faculty are members of academic associations such as the American Academy of Religion and the Society of Biblical Literature.
One faculty member is listed in Who's Who in Religion, Who's Who in America, and Who's Who in the World.

Questions about the School of Theology and its projects are also welcome.
---
Copyright © Quartz Hill School of Theology
Unless otherwise indicated, the documents stored on this Web site are copyrighted. Links to these documents are permitted and encouraged. No copies may be made without permission.
---
Quartz Hill School of Theology
43543 51st Street West - Quartz Hill, CA 93536
Phone: (661) 722-0891

Be Sure to check out