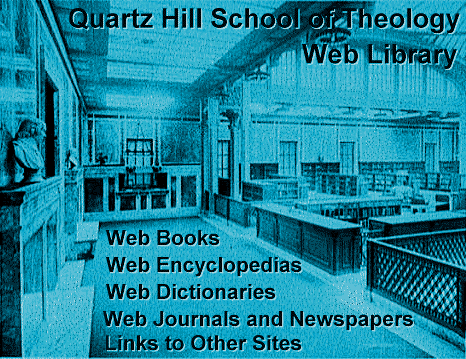 ---
Web Books | Web Encyclopedias | Web Dictionaries
Web Journals and Newspapers | Links to Other Sites
---
The on-line library of Quartz Hill School of Theology is designed to meet the research needs of its students. To that end we have on-line books, journals and other reference materials, as well as links to other sites that may help the students.
---
Click below to send us suggestions (URL's) for links to books, magazines or other sources you think might be valuable for our library:
Also let us know if you have any problems with a link.
---
Be sure to visit the Quartz Hill School of Theology Home Page. We offer online courses that you can take for free! Like shareware, you pay only if you decide the product meets your need.
---
Search the World Wide Web For Other Information

---

---
To search the Christianity.Net/SEARCH directory now, submit your query here:
---