Amazon will contribute 5% of your purchase to Quartz Hill School of Theology.
Quartz Hill School of Theology
offers a free and open educational resource for self-learners everywhere. Our mission is to advance knowledge and education, and serve the world in the 21st century. Our
courses
cover a wide range of subjects. We offer the classes as shareware, which means that you don't have to pay unless you want to. As with other shareware, there are some advantages to paying. For instance, you'll get academic credit for your work. Check out a course, try it on for size, see if it fits.
Click on the tabs above, the words to the left, and the blue hyperlinks below to discover some of what we can offer.
The High Desert Christian Writer's Guild
---
But, God Loves Us And Knows What He Is Doing
---
Be Sure to Check:
A RESPONSE TO ANTI-SEMITISM
Faculty and Staff Blogs
Jim West's Blog
Nettelhorst's Ramblings: A Blog
---
Quartz Hill School of Theology has published Jim West's books, Biblical Studies: A Beginners Guide to Significant Aspects of the Study of the Bible and Systematic Theology: Theology for the Person in the Pew.
---
The Current Issue of Quartz Hill Journal of Theology is available HERE. It is a quarterly journal of Bible and contemporary theological thought.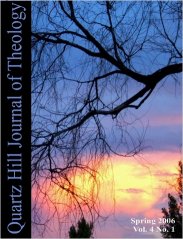 Past Issue of Quartz Hill Journal of Theology is available HERE.
---
Inner Beauty, a calendar for 2006 featuring photographs by Dandi Moyers, our Assistant Editor, is now available HERE. Featuring beautiful closeups of flowers.
---
Other Stuff Of Interest
About the Church that Supports Us | Current Diatribe
Software | Areopagus | Stump the Theologians
News about Beyond the Box, our weekly Webcast
Get mugs, t-shirts and mousepads with the Quartz Hill School of Theology logo!


---

Farvardyn Project is a source about religions, culture, civilization, rituals and ceremonies of the Gateway of the east, Ancient Persia. It also provides some introductory informations about holy and dead languages of the lost world of Iran. The Farvardyn site has granted us the following two awards: